Photo: Olympians Joel Swift, Kyah Simon and John Porch in front of the NCIE Indigenous Olympians Honour Board.
Eight new Indigenous Olympians were added to the honour board of Australian Indigenous Olympians at the NCIE.
This now brings the number of Aboriginal and Torres Strait Islander athletes who have represented Australia at the Olympic Games to 51. These 38 men and 13 women have contributed to 12 medals in our Olympic history.
NCIE CEO Kirstie Parker said the NCIE was thrilled every day to be a small part of these Olympic journeys through the NCIE's honour boards for Australian Indigenous Olympians and Paralympians.
"Thinking about the amount of excellence, success and achievement these honour boards represent blows us away and we're all extremely proud to be reminded of that every day," she said.
An emotional recognition ceremony at the NCIE on Friday 23 June was attended by three of the athletes, Kyah Simon (Football), John Porch (Rugby 7s) and Joel Swift (Water Polo).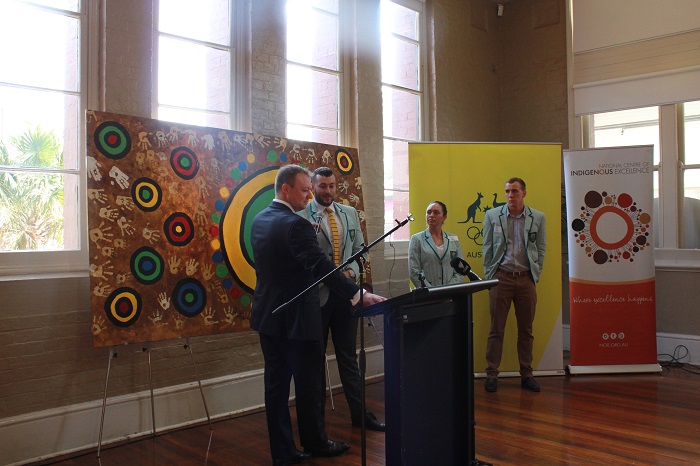 Photo: Australian Olympians Joel Swift, Kyah Simon and John Porch with James Edwards from the Australian Olympic Committee.
Kyah Simon, who was part of the Matildas women's soccer team that finished 7th at the 2016 Games said it was a really special moment, when she saw her name up on the NCIE Honour Board. 

"I am incredibly proud of my Indigenous heritage and today, particularly being that it was Olympic Day, was a great opportunity to acknowledge not only my roots, but those of my fellow Indigenous Olympians," Kyah said.
"I hope that more and more young kids come into the NCIE from whatever community they are from, see the names on this wall and aspire to have theirs up there as well."
The ceremony was followed by the return of a 2.5 metre artwork, Walking Together, which was painted by children from the NCIE's After School Program.
The painting hung in the Athletes' Hub in Rio and will now take pride of place back home in Redfern.

Photo: John, Kyah and Joel are joined by Joseph, Damien and Cherry from the NCIE After-School Program, Helen Brownlee from the Australian Olympic Committee and artist Dennis Golding in front of the painting, Walking Together, returned from Rio.
Artist Dennis Golding said the painting was devised by the children to connect Olympics, culture and community.
"What we found was familiar, was the Olympic rings connecting with symbols we use in some of our artworks, such as campsites and waterholes," said Dennis.
"The children noticed the rings are the colours of our Aboriginal and Torres Strait Islander flags, and their 35 handprints in yellow ochre symbolised connecting inland and coastal communities." (Painting Picture)
"The flag colours were incorporated into the painting and symbolised the connection between the Olympics and their heritage; the large circle represented the big Olympic location, and the smaller circles signify the many communities we all come from."
Also part of the International Olympics Day ceremony was the presentation of the IOC Sport beyond Borders award to Rob de Castella for his work with the Indigenous Marathon Foundation.
The award was accepted by IMF graduate and NCIE Program Manager, John Leha, who paid a heartfelt tribute to the four-time Olympian's work with Aboriginal and Torres Strait Islander people.


Photo: John Leha accepting the IOC award on behalf of Rob de Castella with NCIE CEO Kirstie Parker.
"Rob doesn't talk much about his own achievements, he talks about his legacy as being able to support us to support each other to get out there and be deadly black people every day," said John Leha.
"He hasn't just changed my life he saved my life, and not just mine but my family and my community. I want everyone to take time to realise the change Rob has made to this country."
The  Australian Indigenous Olympians Honour Board is a feature of the NCIE Fitness foyer and displays the names of the 51 Indigenous athletes who've represented Australia since 1964. The Paralympians Honour Board is also on display at NCIE Fitness.