The deadly Luke Carroll joined us on Wednesday 11 November for a special Story Time during our online NAIDOC celebrations.
Luke read books supplied by our friends at the Indigenous Literacy Foundation to a live and online audience.
The stories were 'Can You Dance?' written by Sally Morgan and illustrated by Kathy Arbon, as well as 'Moli det Bigibigi' (Molly the Pig) written by Karen Manbulloo and illustrated by the Binjari Buk Mob.
The third book 'Wamparla Apira' (Possums and Tall Trees) was written by Syd Strangways and illustrated by Kathy Arbon. Click here to read more about these excellent stories.
Luke Carroll is a proud Wiradjuri man with a strong connection to NCIE.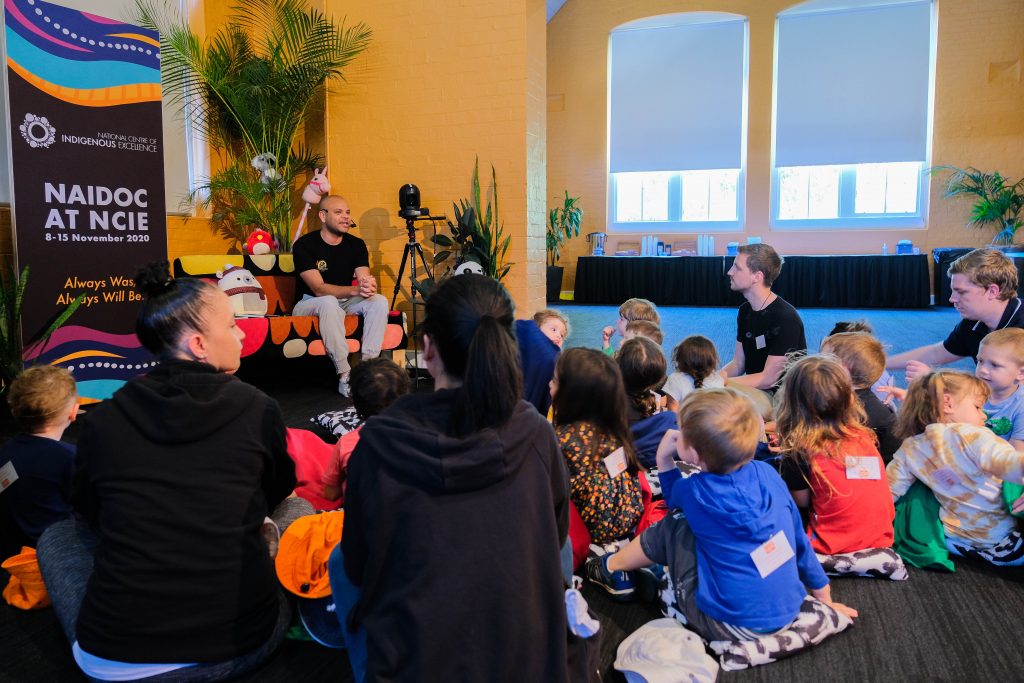 NCIE, the site of the former Redfern Public School for over 100 years was where Luke was a student in the 1990s.
Luke said he was excited to be sitting in his former Year 6 classroom for Story Time during NAIDOC at NCIE.
"I remember when NCIE first opened up, I was an avid gym junkie. I was going down to the gym nearly every day and it was a great place for young and old to come together and get healthy and fit," he said.
"It's a meeting place for us as a people and I am happy to be back here."
Before commencing Story Time, Luke spoke about the importance of the 2020 NAIDOC theme; 'Always Was, Always Will Be' and how that helped shape him as a young man growing up in Redfern.
"I remember marching as a young fulla, from the block just down the road here in Redfern, down to Hyde Park, marching for our land rights and that was always our catch-cry and still is to this day," he said.
The books supplied by the Indigenous Literacy Foundation were funny, educational and interactive, with our live audience of students from the SDN Children's Services dancing, laughing and learning.
It was an excellent afternoon for everyone, with the three stories giving audiences an even greater opportunity to learn even more about First Nations cultures, traditions and customs.
This event was live-streamed across our Youtube Live channel – check it out below.
Big thanks to City of Sydney for supporting NAIDOC at NCIE 2020.