As part of our 2020 online NAIDOC at NCIE celebrations we hosted an 'Anger to Action' discussion panel on Tuesday 10 November.
Moderated by Will Trewlynn, CEO of BlaQ Aboriginal Corporation, the panel included activist and proud Bundjalung woman Vanessa Turnbull-Roberts, Malyangapa and Barkindji artist Barkaa and Gamiliaraay man Mick O'Loughlin from IndigenousX.
The panellists explored ideas of the systems and structures that keep First Nations people at a disadvantage and shared messages of hope about how we are seeing positive change.
All of our panellist embodied Indigenous Excellence, living and breathing a message of empowerment for our community.
"My therapy is reclaiming who we are as First Nations people and actually coming together in these spaces and sharing that. I drive that in community protests when organising," Vanessa Turnbull-Roberts said.
Vanessa said it is possible for social change to happen for First Nations people across all communities in Australia and one of the ways to achieve that was to share culture.
"To say it's impossible to see change would be disrespectful to our ancestors and Elders… I always believe the impossible is possible and I guarantee if you're a non-Indigenous person watching this space, my arms are open for you if you're ready to have a conversation and show up," she said.
"Always remember, saying nothing is always saying something. If you want to be on the right side of humanity than come stand with us, because you are welcome and there is no reason why you need to turn your back on us, because our doors, arms and communities are always open."
Mick reflected on his time mentoring Indigenous youth within schools, through programs and the juvenile justice system.
"We can't look at trying to fix a problem after it's already happened, we need to get in there beforehand and support our families, communities and kids, to prevent those problems from happening in the first place."
Mick also said he'd like to see more positive stories of First Nations people shown on mainstream media.
"It's about us getting those stories out there and helping people realise that we do have a voice and if we come together, we've got a louder voice."
Barkaa said anger was originally an emotion that she didn't know how to express in a positive way, until she found music.
"Since I came back to my music and my art form, I found a way to express my anger in a healthy way. I think for a lot of our mob we're so talented and so clever and gifted" she said, highlighting the inherent excellence within First Nations people and the need to nurture and amplify this.
"Be authentic in yourself… if I was to trim down parts of me, I wouldn't be my authentic self."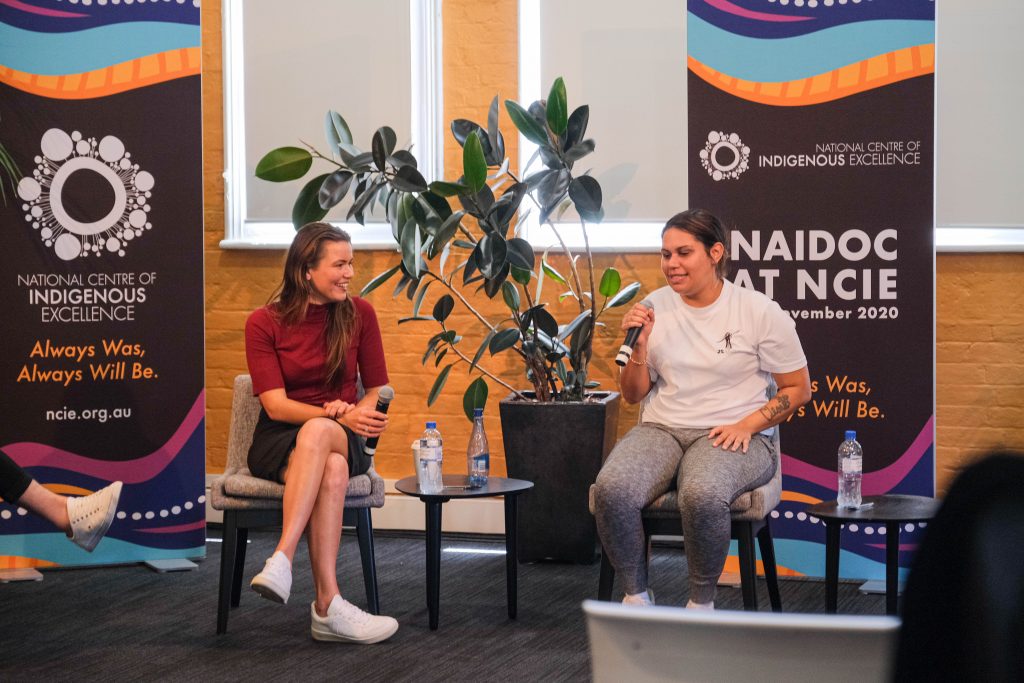 This riveting, thought-provoking and momentous conversation will stay with us long after NAIDOC Week 2020.
Thanks to all of our speakers for sharing their stories, ideas and insights so generously.
This event was live-streamed across our Youtube Live channel- check it out below.
Big thanks to City of Sydney for supporting NAIDOC at NCIE 2020.